Matrix Roofing
Matrix Roofing (GRP)
What is it?
Originally developed for use in ship building, Matrix Roofing uses Glass Reinforced Plastic (GRP) to provide a hardwearing easy to install roofing solution for any roof, but is more commonly used for flat roofs and complex roof designs with lots of protrusions, such as sky lights.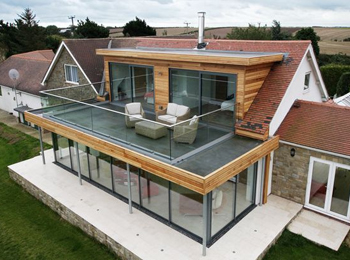 The main advantages to you for choosing a Matrix roofing system is as follows
What is it?
Environmentally friendly – one off installation, no waste
Long term guarantees – material and workmanship
Virtually Maintenance free – outlets require clearing yearly
No joints or seams – no avenues for water to seep through
Lighter than traditional roof tiles
Installation
Bondright's installation of matrix roofing (or GRP) follows a straightforward process, benefitting you with a fast turnaround and cost savings. The process we follow for installation is as follows:
Strip the old roof back to the supporting structure
Form a new roof deck using 18mm thick boards.
Apply fibreglass profiled trims to all edges of the roof to ensure nice smooth lines.
Cover the main deck using a liquid resin based system which is reinforced with fibreglass matt.
Apply a finishing coat of tough protective polyester topcoat
As you would expect there are a variety of colour and finish options, such as walkway requirements for your new roof and upon contacting us for your free quotation we can discuss the most suitable colour option for your property.
Free Quotation
Call Bondright's helpful and experienced team today on (01491) 579659 for your free quotation and colour choices for your new Matrix roof.